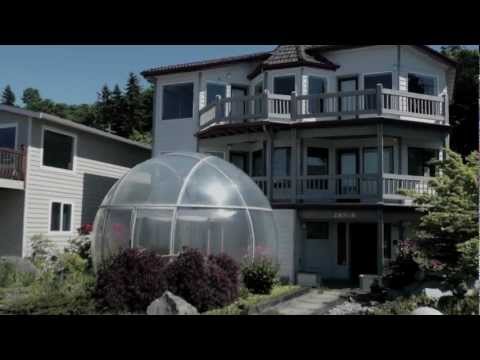 In 2012, Scott Schaefer, publisher of The B-Town Blog and co-founder of SoKing Internet Radio, decided to commemorate the 50th anniversary of the Seattle World's Fair Century 21 Exposition with a series of rock recordings featuring local bands.
Through a serendipitous conversation, Scott connected with Gene Achziger, the current owner of the historic Bubbleator, who agreed to loan it out as a recording studio.
For the first edition of "The Bubbleator Sessions," Scott turned to local artists Trip Like Animals to provide the music, and Norm Bowler of Grumpy Old Bear Artist's Collective to engineer the recording. They loaded into the Bubbleator on a Saturday in June, 2012 – sharing the space with greenhouse plants – and spent the day filling this historic, plexiglass sphere with TLA's driving psychedelic grooves while puzzled neighbors looked on.
The results are like nothing you've ever heard before. The album will be available on iTunes, eMusic, Amazon, Bandcamp and Spotify in late October.
Stay tuned, and please remember to step to the rear of the sphere…