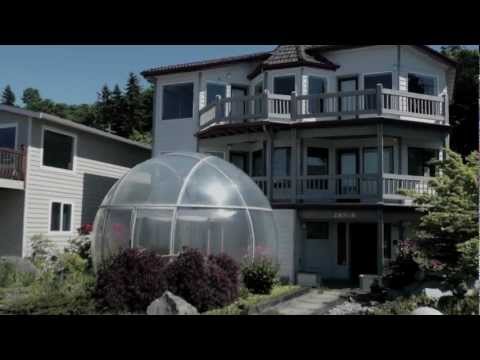 It has been a space-age elevator, a greenhouse, and now – a recording studio!
What is it?
It's the original, 1962 Seattle World's Fair Bubbleator!
The Bubbleator was a 20-foot spherical Plexiglas elevator, installed as part of the 1962 Century 21 Exposition in Seattle.
Over its lifespan, millions of visitors were instructed to "step to the rear of the sphere" as they were transported to the world of tomorrow, then to various levels of the "Food Circus."
It was removed in the mid-1980s, and was nearly scrapped before being salvaged by local resident Gene Achziger, who rescued this historic relic and installed it as a greenhouse in his south King County home.
And for one day, this plexiglass sphere became the rockinest, most eclectic recording studio in the world, with a built-in amphitheater echo reverb that was perfectly suited for its first musical guest, Seattle-area psychedelic grunge band Trip Like Animals.
Trip Like Animals consists of:
Mike Molner
Joseph Molner
Jerome Dimanlig
Douglas Stonerock
Now please step to the rear of the sphere, 'cuz we've got some rockin' to do…